Travel Expense Pocket Guide: Over 1000 Pages of Tax Regulations on a Business Card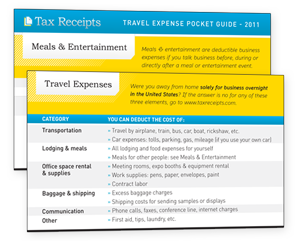 Business doesn't always happen in the office…
Sometimes, it requires you to jump on a plane, train or in a car to attend a meeting in a distant city or even across town.
During your time away from the office, you will encounter a variety of expenses ranging from hotels to taxis and everything in between.
If you are charging everything on your business credit card and hoping for the best, we have a bit of bad news: that just won't be enough if the IRS comes knocking on your door.
To deduct the expenses associated with your business travel, you need to know what is deductible and what key pieces of information to collect.
Because so many business people face this issue on a daily basis, we created the Travel Expense Pocket Guide.
Get the Travel Expense Pocket Guide
The Travel Expense Pocket Guide is a business-card-sized gem that contains simple rules of thumb to help you manage the many business expenses you encounter while traveling.
Because we believe so strongly in solving this issue for small businesses, we are releasing this simple, money-saving tool for free.
Simply Click below to download the Free PDF of the Travel Expense Pocket Guide.
Here is the print ready version of the Travel Expense Pocket Guide.